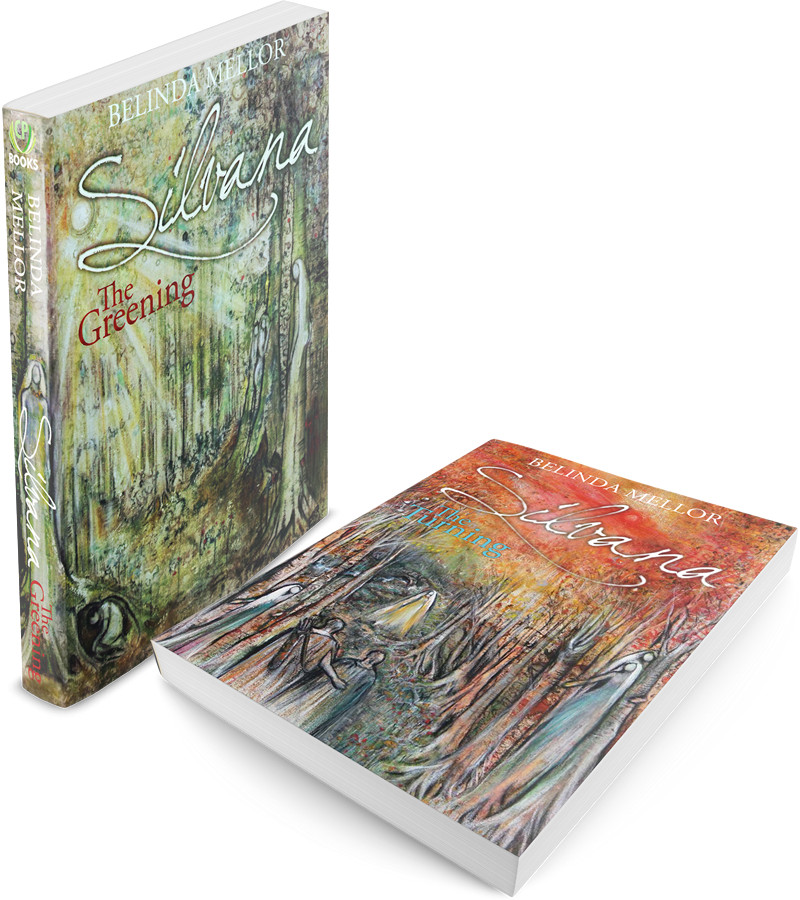 Silvana The Greening
The first book in the Silvana series
"By the end of the very first paragraph, I knew I was going to like this, although it's hard to articulate why. It's a feeling I got. Right away. A sense that I was in good hands with this author. Three simple sentences, each doing a different job, and each doing them with poise…"
– Reviewed by Jefferson Smith (Immerse Or Die)
Silvana The Turning
The second book in the Silvana series
"…It's by any measure, an accomplished, engaging, involving, and worthy successor to The Greening."
– Reviewed by Screen Writer, Tony Etchells
Silvana The Greening
The first book in the Silvana series
"Once heard, the song of a Silvana can never be forgotten.
Yet for every man who wins such a wife there are three destroyed in the attempt. "
Order a quality print edition (330 pages)
Read the first book in the series
Order a quality paperback of Belinda Mellor's first book in the Silvana series: Silvana The Greening.
Or purchase the digital ebook from Amazon Kindle:

FIVE STAR REVIEW AWARD – From Readers' Favorite – Book Review and Awards!

AWARDS FINALIST in the Adult Fiction Category of the 2016 Wishing Shelf Awards!
Treat yourself to Mellor's magical prose.
What a lovely tale of love and betrayal. Ms. Mellor creates a hauntingly beautiful world that I hated to leave. Her lyrical style holds the reader captive while we root for Fabiom to win and keep his Silvana love…
Wondrous and haunting
Like the last lingering sweet note of a plucked harp string this story echoed through my thoughts long after I'd reluctantly closed the final page. My best attempt to categorize this wondrous story with its eloquent prose would be as a literary fantasy. The imagery is hauntingly beautiful and a feast for the senses…
If you only read one book this year, read Silvana
Silvana, a sweeping saga, grabbed my heart from the first page and didn't let go. The story inhabited my dreams and the beautiful prose spoke to a special place deep within me, much as the Silvanii sing to some who are blessed enough to hear them….

Silvana The Turning
The second book in the Silvana series
The seasons change; Turning and Greening and one more Turning and Lesandor of Deepvale, human son of a Silvanan mother, will reach manhood; Along with this, his one and only chance at winning the heart and hand of a beautiful and powerful Silvanii, like his father Fabiom did years before.
Read the sequel in the Silvana series
Order a quality paperback of Belinda Mellor's second book in the Silvana series: Silvana The Turning.
Or purchase the digital ebook from Amazon Kindle:
Gripping, but sadder than the first in the series.
Hi, I am a 13 year old girl who recently read Silvana The Turning. I think this book is quite a bit sadder than the previous novel, Silvana the Greening, though it has happiness all the same. There are a lot of emotions and dangers that make the book very gripping!!! I really liked it, but my fave so far is the first (just because I like happy stories 🙂 I love the covers of both books, they are gorgeous! And I will definitely ask my mother to buy the next one.
A Haunting Masterpiece.
Bravo. Bravo. Standing ovation. If this book was a piece of classical music, after the last note played, the last page turned, the final sentence read, there would be a pause as the audience reconciled itself that a masterpiece, an intricate weaving of words into raw human emotions, has sadly come to an end. Feelings of loss. Hands unwilling to close the book, wanting to hold onto the threads of the story for just a bit longer. To stay within the world of the Silvanii, which at this twilight moment feels more real than our own flesh and blood lives. A sadder tale than The Greening, one that cuts a bit deeper into our soul, the pages almost weeping with sorrow, but also a message of hope and love. The seeds for the next story have been firmly sown and I await with ardent anticipation Book Three.

Belinda Mellor is a wanderer, currently living in New Zealand (she arrived on holiday 9 years ago and forgot to leave). Before that the same thing happened to her in Ireland. She was actually born in England.
She loves myths and legends and folklore, so all her stories touch on those things because she believes that's where truth is to be found.
Follow Belinda Mellor on Facebook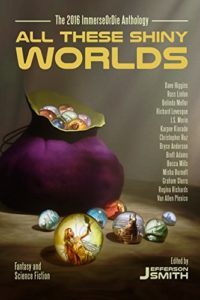 FREE eBook Download!
Not quite sure if you like fantasy/fiction writing?
What do you get when you ask 34 of today's top indie authors to each submit a story and then ask a team of ruthless judges to scour that ore and pick out the gems? You get All These Shiny Worlds: A world of today, divided black from white, good from evil, and held apart by the taste of a cookie. A world of griffons and glimmer bunnies, sassy llamas, and the magic of beer. A world of contemplation and serenity, of service and devotion, ruled by a jewel and guarded by children. Plus 12 more, for a total of 15 sparkling worlds to explore.
From the brutal curators at ImmerseOrDie.com comes this collection of indie short stories, each a distinct jewel forged in the fires of judgement, and each carrying that simple promise: Guaranteed not to suck!
Featuring Belinda Mellor's AWARD WINNING short story: Bronwen's Dowry
Bronwen's Dowry is set in the same world as Silvana but in another country at another time. It was originally published in 1989 by Collins (as they were back then) as part of an anthology of the winners of the inaugural Ian St James Literary Awards, winning third place overall. View on Amazon here: All These Shiny Worlds – FREE eBook!